06.10.2020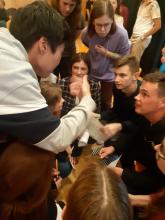 On September 18, 2020, GRETERE project coordinator, associate Professor of the Department of Space Monitoring and Environment of MIIGAiK Galina Kuznetsova took part in the IV all-Russian meeting of "green" universities held within the all-Russian Program "Green Universities of Russia".
The meeting was organized on the eco – farm territory "Yasno Pole"  and brought together 120 students from 30 regions of Russia - from St. Petersburg to the Far East - who has taking active part in the Program events (eco-quests, days of unified actions, battle of cases, etc.).
Galina Kuznetsova as a speaker of the session "Green Outlook as Meta-competence of Future Professional Activity" presented the interdisciplinary module "Sustainable Territory development" which is being implemented at MIIGAiK within the  international ERUSMUS+ JM project  "Green Terra Development: EU policy and the best practice" (GRETERE). The session speakers - coordinator of the project "Kapoosta" Ekaterina Lazareva, head of the CSR school and Sustainable Development Moscow International Higher Business School MIRBIS Svetlana Gerasimova and Galina Kuznetsova) together with Meeting participants discussed the paradigm values of the liberal model of development and models of sustainable development, factors of influence "environmental consciousness" to the company's image, opportunities  of "green" business development in the modern world (including in coronavirus), what competencies are important for implementing the sustainable development model and how eco-competence could be developed in higher professional education.
At the end of the session Galina Kuznetsova moderated the study game "The World we want to live in: Green Business". As part of this game students formed proposals for the Russian SD National Strategy (as they imagine it), modeled (created the ideas) their "green business" and were dropped into the "tough" competitive business field. At the end of the game the green business teams that survived the competition pleased the moderators by rejecting the competition principles and joining together to build a new "green" city based on the principles of sustainable development model and partneship.
Spin-off of the visit. MIIGAiK representatives agreed with the head of the Programm "Green Universities of Russia" Irina Tikhonova on information partnership, in particular, information supporting x hackathon "EcoHack" which is planning to be organized as GRETERE activity  in April 2021 and where participants will be assigned tasks on environmental issues.